The Black Eyeshade (Part Two)
I received an exciting message from @Karmacoma, which I reproduce in full below and which I appreciated as a challenge to continue this story .
He ties me tightly then hugs me in his strong arms as we go down together, hugged, on the bed. He whispers in my ear, " Do you trust me?" . It's the same question I heard before every adventure. It never disappointed me, it never hurt me. I answered as usual "Yes", maybe more now extinguished because I feel the emotion before a great pleasure. He takes my hand in his hands and I feel my wrists, one by one, immobilized by the headboard. I lie face up with my hands up. I feel exposed, vulnerable. The slippery, short, satin dress doesn't give me protection. My breasts are escaping my generous cleavage. One corner of the dress rose, leaving one thigh exposed. I feel restless or maybe just impatient, I can't really tell. I want to regain some control and close my thighs, hiding that place that begins to emanate a lazy heat throughout my body.

I don't say anything, Alex doesn't say anything. It's quiet. I am a little intrigued and become impatient, eager to start something, to receive what Alex always tells me I deserve, the treat and pleasure that beautiful women must receive. I'm getting ready to say something, but I hear Alex leaving the room. Then the front door creaks. Murmurs of voices reach my ears. I don't know how many people are there. I feel a little scared, I hope Alex doesn't surprise me with something that I'm not ready for. I'm trying to make out the voices. There are only two, one is Alex, the other sounds familiar to me… yes, he's my first lover, R. Suddenly I feel safe. They are the men I love and who go to the heights of pleasure.

My heart starts beating fast, now I want their hugs and kisses, I want their bodies close, to feel their hard penises in my hand, to smile at them, like a teenager in love, who says with a stupid face, that she is ready to surrender in their arms, to their insatiable manhood. But I can not. I'm tied up. I call the name of my first lover. He does not answer me. He doesn't come to me to kiss me, to walk his hand discreetly, as usual, between my thighs, as if he wants to check if my pussy, his, Alex's, is still there. I hear them walking around the room. I whisper. I hear chairs crawling on the floor. I don't know what I'm doing. I open my thighs slightly to seduce them with my wet crack, as always. Maybe one of my lovers will give in and come like a bee to the honey pot. Then I would trap him in my thighs and hold him there until he would give me what I wanted, a touch, anything, that would put out the fire of my clitoris.

One of the boys approaches and lifts my dress above my waist, then opens my thighs wide and releases my breasts from the cleavage. He returns to his chair. I can't believe this, it is not what I expected to happen. I feel a little betrayed. My boys do not come to take their prize, they do not rush to serve my royal pleasure. I feel like I have to pull out the heavy weapons of seduction. With my legs apart and my pussy exposed, half-open, I begin to lasciviously wave my hips as if trying to hypnotize them with a magic clock, a clock that counts the seconds until they rush with their tongues between my swollen lips and red with desire. I double the magic with a slow, long moan, like the meow of a cat in heat.

I hear them talking.
"Do you like what you see?" Alex asks.
"I think she is ready. See, the honey has started dripping from her vagina to her ass " , answers R.
" What would you like to do now? Alex asks again.
"I want her like crazy, I would go in and push like a selfish person until I let go. I would ejaculate in an instant. "
And Alex answers "I can see from your boxer shorts that you like Ela very much. Will you allow me a second? "
Immediately R. sighed a long "m". I usually like R's sigh, but not now. I become selfish when I'm aroused and I find it unfair to be left to wait. I give up any seductive plan and ask him like a spoiled child, while I continue to wave my pelvis.
"Guys, please, I need you! Don't start without me. Get closer. I need you. "

One of the boys approaches me and whispers in my ear. It's Alex. "Patience baby, you'll get all the love you deserve, just need to have a little more patience" and he starts kissing my throat as he strokes my left thigh. I immediately feel the second mouth on my right side kissing my cheek and kissing my neck. R. runs his hand over my right thigh. Then they both begin to descend to my breasts. I feel them caressed and massaged by four hands, and my nipples sucked by two mouths. I feel cramped, taken up with an insatiable masculine momentum and I like it. I feel the animal hunger in their kisses, I am their queen again, I am in control.
My sequel follows. I'm waiting for you to tell me in the comments what you think.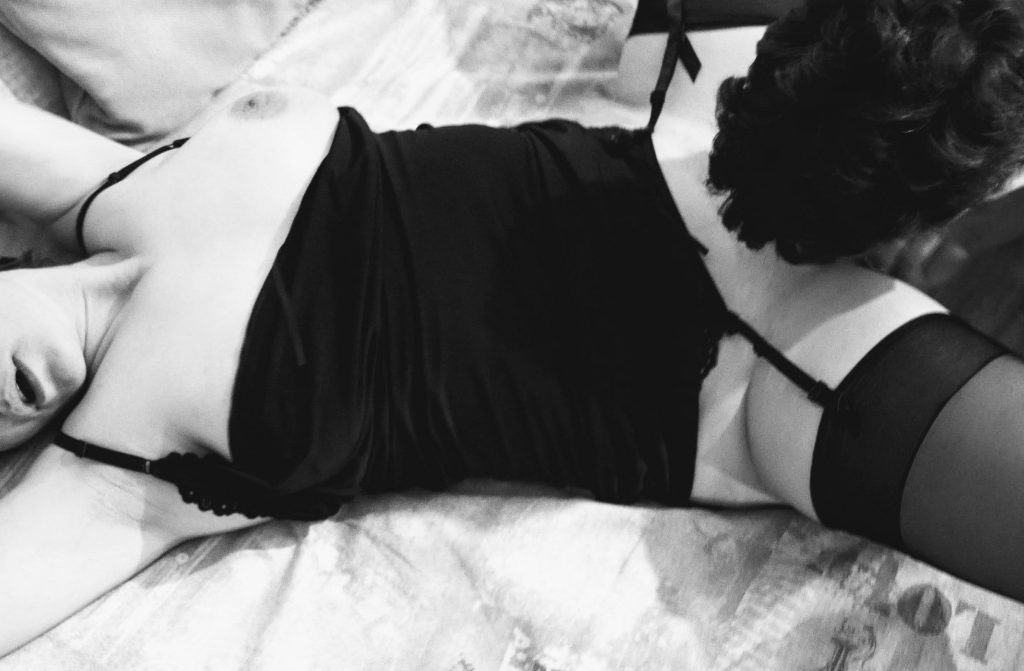 "Tell me, baby, do you like my surprise?" Alex whispers in my ear.
But just then R. descends with his tongue near my breast, lower and lower on the hip line, only to then look forward to the inside of my right thigh. Blindfolded, all I have to do is focus on the stimuli that my skin receives in abundance. Between the two men my body waves involuntarily, accompanying jerky and prolonged moans.
The scene becomes tempting for Alex who can't help but kiss me lustfully. Since my hands are still tied to the headboard, I can't move too much, so I let him dominate the kiss. As his tongue penetrates deeper and deeper, I immediately feel the taste of cock and go crazy with pleasure. My suspicion becomes certain: my husband couldn't help but taste R's cock first.
He holds my chin in his palm for a few seconds, but only to have a starting point, because his fingers want to go down around my neck, looking for the perfect pressure that excites any woman. We kiss and moan together, just like in our fantasies, and this seduces R. who decides to join us. I feel him approach me, pull my hair aside and gently pinch my earlobe between his teeth. Then he whispers in an unmistakable voice, "I missed you, Ela!" .
Waves of emotion run through my mind and body just at the sound of his voice. I'd like to answer, but my lips are captive. Hot. Happy. Caught in an unreal challenge. The three of us kiss. We merge into an indecent game that reveals the closeness between us. A game of seduction and competition, which each of us has certainly imagined since the previous meeting, but which we have only now accepted.